Your Online, Monthly Teddy Bear Magazine
Reaching thousands of bear collectors worldwide!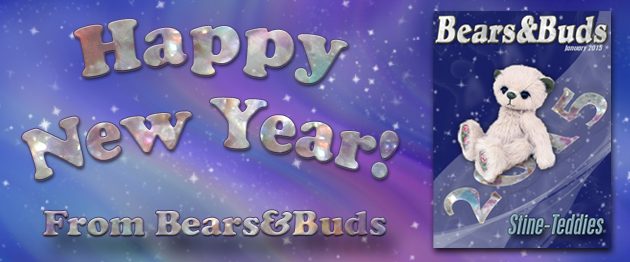 Together we achieve the extraordinary!
January 2015 Teddy Bear Webzine
Table of Contents
Sponsors of the Annual URSA Awards Competition
Bears&Buds is a Green Magazine!
Valerie Rogers

Publisher/Executive Editor of the original online teddy bar magazine, since 2005

Special Thank you's go to all who contribute to Bears&Buds; our artists, collectors, readers, advertisers, cub reporters, writers and digital imaging creators. And to all of you who keep this hobby exciting, on the cutting edge, fun, friendly and thriving.

Introduction from the publisher

Read Bears&Buds in other languages. Click on the banner, select your country and our whole web site will be translated into your language.

eMail us anytime with your comments and suggestions. We love hearing from you!

Read Bears&Bud mission statement

To navigate throughout the site, just click on the icons or photographs

Click on the banners or icons to read more!
Focus on the Bear News

Subscribe and receive a password to access
more pages than shown here!

What's New?

Buy Now and every day.

Direct from our talented Artist Members!

While they last!

Visit the Online

Bear Shopping Mall

Open Day and Night

Past Articles

In the archive you can enjoy all the past published features; so you haven't missed a thing!

In their own words....

Meet the winners!

Coming March 15, 2015 the Official URSA Awards Competition
ENTRY FORMS


What will you enter to dazzle the voters?




A very special thank you goes to all our
2014 URSA Awards sponsors.
Please visit their web sites.

View all the URSA awards and prizes that the artists were vying for in 2014

Meet Dave Stack the developer of BearPile.

Search for a new hugs from his site.

---


Write Articles For Us

Do you have something to share with our readers and collectors?

Link to Us

Place our link on your web site. Let's grow together on the Internet!

---

Write to Us

We'd love to hear from you.

Artists and Collectors!


Banner
Advertising Rates

Bears&Buds is seen around the world and a perfect opportunity to advertise with us.

Because of space we can not show all the 600+ links to

our wealth of archived information in Bears&Buds.

Click on the featured icons, then mouse around our site.

You'll be surprised!

Contact us by video: valerie_star_rogers
Skype, it's free!


Visitor count is from the beginning of 2015

We have always been a "green" magazine, by being an online magazine and not a printed publication which helps our planet's environment.

The articles, features, products and links found on Bears&Buds do not constitute endorsement or guarantee of artist's workmanship or merchandise quality. The informative articles are designed to enrich the reader's knowledge and to introduce the many talented and varied artists-members that make up the teddy bear world. Bears&Buds is not responsible for errors or omission. If you find a broken link, please email us.

Let your dreams be your north star!
---

If Bears&Buds was was fun to read, helpful in understanding your teddy bears and you enjoy reading it every month, please feel free to make a donation; giving us a Helping Hand. We offer most article for free, however site maintenance and server fees do add up. Your help is welcome by a donation or by subscribing.

---
Bears&Buds is an electronic publication and not a paper printed publication. Circulation is world-wide and available online 24/7.
Established in Jan 2005, first publication on March 2005
DBA Bright Star Promotions, Inc. State of Kentucky Since 1981