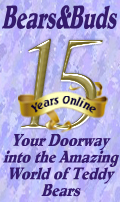 The Original Online Teddy Bear Magazine

Teddy Bear & Vintage Toy Appraisals

July 2020

Introduction . . .

I am now honored to reach out to the collectors and owners
of unidentified bears, stuffed animals and vintage toys.

Ken did this for years and was an expert appraiser. I was his understudy or apprentice and together we viewed and enjoyed each and every request that came our way.

Appraising bears online will be a fun adventure for all of us. We will share our discoveries here on this web page.

Meeting new faces, in teddy bear form, and sharing the knowledge I have gathered, will be a joy. Together we can discover that everything old can be newly appreciated!


Beary best,
Brenda Yenke

How much is your beloved bear worth?


Cursor down to discover the appraisal procedure.

Dear Brenda,
I've been dreaming of owning a bear like this since I started collecting nearly 25 years ago! This is a newly acquired bear, sold as a 1920's Steiff bear. He is 24 inches tall and retains 95% of his blonde mohair. Everything on him is original, two tone eyes, all stitching, four stitches on each paw and foot. He also has a working growler, although it's more of a burp, it does still function. Joints are firm. No breaks or sags
in his excelsior stuffing.

Paw pads show some minor wear. He retains his Steiff ear button with a remnant of the red/orange tag. Any insights would be appreciated.

David

Your 24" Steiff is impressive.. what a great example!
The button and tag are more than sales tax under these specification standards. During the era of your Steiff, the years were lean from WWI, and the Great Depression.
The remnants of the red tag under the FF underscored button leads us to 1926-1934. Originally, the tag would have said "Steiff Original, Geochutzt- Made in Germany". The mohair is rich and plush, and in very good condition. The painted glass eyes are expressive, along with the larger size. The slight wear on the wool felt pads are minor issues. His full cord claws are just as they were when created! Steiff was fortunate to have examples on hand from their archives, but they too had to curtail some factory work. The growler has also let him retain his voice, another attribute. He is a rare bear despite the common color. Value would be $5,000.00. Excellent bruin.
Brenda




Dear Brenda,
This is a newly acquired Ted. He was identified as a 1930's Chiltern bear. He is 24 inches tall and retain 100% of his mohair. The color is a dark brass with hints of apricot.
Everything on him is original; paw pads which feel like a velvet-type fabric, eyes, and all stitching, although only one paw retains claw stitching I counted four. His head and body feel excelsior stuffed while his arms and legs feel more softly stuffed. Joints are firm. No noisemaker that
I can detect. Any insights would be greatly appreciated.

David

Hi David,
What a splendid Chiltern, who is very correctly stated as a 1930s example. The clear glass eyes are an indication of his early production. He is pristine! The cardboard feet help him stand taller over the smaller Teddy's! The velveteen pads and matching muzzle have the typical vertical cord nose but beautifully executed. I can see his nose cord, with the extended upward stitch, visibly taken on the right side-end his wide smile. The ears are sewn into the head seam, large and cupped. His arms are high on the shoulders, with an ever so slight hump on the back. At 24", he is a large bear. English teddies are more inclined to have kapok stuffing in addition to excelsior. It makes them softer and lighter. The mohair is typical gold, but the condition is atypical. There are no claws. He seems like a nice chum for Winnie the Pooh! Value would be $2,000.00.

Hello Brenda,

I do not know from which side of the family this toy came, but both sides are eastern Canada. Neither do I know even which generation/era it came into the family, nor if it was acquired or a childhood toy. The bear is 13" tall. These photos show detail of left ear seam and 'water' stains. The soles of the feet have a flat cardboard/pasteboard disk to hold the fabric shape. The stuffing is soft and evenly squishy, and it makes no crunchy or squeaky sounds when pressed.

The fur feels soft and silky and I did a match test on a snippet of the fur with results pictured in one of the attached photos. The eyes feel very cold on my lips and seem to be inserted with a simple, long wire pin. The left ear fabric has come away a bit from the seam, and there are some faint 'water' stains on the left arm and left front hip.
Cordially,
Elizabeth

Hi Elizabeth,
Your heirloom teddy is an American example from the Gund Manufacturing Co. Their early years were 1898-1925 under the leadership of Adolf Gund, a German immigrant. He mostly made novelties, along with accessories. In 1906, he added teddy bears to the line. A few years later he hired an assistant, Jacob Swedlin, who was a Russian immigrant. So driven and skilled, Jacob became the most admired employee. In 1925, Gund sold his patents and patterns to the new head, Swedlin. He enabled him to offer jobs for his family, as they joined as US citizens. Your teddy is part of the unjointed toy line, called the cuddle toys. Many were rabbits as well as teddies. Stuffed with kapok, the cotton the feet have cardboard for standing. The fur is a cotton/silk combo and the eyes are glass. He dates to 1949, with a cotton linen percale for overalls, and matching ear linings and soles of his feet. In 1955, Gund placed ads in various toy magazines to thank Jonas E. Salk for his polio vaccine invention. They were so committed to children they wanted to express their thankfulness for the Dr's contribution. The Gund company has remained within the family, although they are now imported. Yours was made in the USA, and as a family piece continues the provenance with a value of $85.00. Brenda

Hi Brenda,

This is an unjointed dog made of soft velvet material.
He has tiny black and brown eyes, I am unable to tell if they are glass or plastic, they look a bit dull or scratched. He is 3.5" tall and 5" long without his tail. His tail looks as if it may have been ripped and sewn back on.

His ears are sewn down onto his head and he is hard stuffed as he feels a bit crunchy when I squeeze him. I would be thrilled if he were a Steiff!
Best Regards,
Jill

Hi Jill,
Your velvet dog is not a Steiff, but as they say, done in the style of an early dog. Unjointed and made with a slightly less dense velvet, the excelsior seems to be less packed to retain the shape. It could be from the American company, Gund Inc. They advertised in the Playthings magazine, stuffed animal specialities, including dogs of all kinds made in velvet and plush. The years were 1914-1927 for these products. The simple cord nose outline with the inverted V mouth was a mainstay. The hand closed final seam was sewn under the body, with visible stitches. They produced velvet animals of distinction into the 1950s. Value for your small dog would be $125.00.
Brenda

Hello Brenda,


This 17" doll purchased at
a shop in Adamstown PA.
He was sold as "Steiff type doll". Made of black felt and has disc jointing with wire.
He does not have any evidence of ever having a Steiff button. He does have some wear to his felt fabric and also his hair. I bought him because I love his expression. I have contacted a Steiff expert who doubts
he is Steiff but thought he may have been manufactured by Harwin. I assume at one time he was clothed, but I bought him as you see him and the seller did not have any additional information. Any help identifying him would be appreciated!


Best Regards,
Jill

Hi Jill,
Your felt "Golly" dates to the 1920s, and seems to have some attributes of Steiff. However, it is most likely the Harwin and Co. of London. The center seam replicates the famous German company, bent knees, applied button eyes, and the mohair wig. The hands are different from Steiff.
They usually had four sewn together fingers, while the thumb was separate. However, the final body seam is very much similar to Steiff. As we compare the likenesses, it is important to remember that Dorothy Harwin hired a sales rep who worked previously with Steiff. Business was brisk with the success of the teddy bear, and England contributed their share of the demand. Formed in 1914, they continued making soft toys until the late 20s. With the Florence Upton story books of Golly and wooden dolls and teddy bear, I think this was meant to be a cherished companion for Teddy. Golly taught Teddy to be well mannered and considerate. Steiff was the first to make a manufactured bear, and as a result many others tried to copy their designs. They trademarked their button in ear, and several companies were taken to court with infringements. Lucky for Harwin, this felt doll survived. It was meant for a costume, and another comparison to Steiff would be they usually had muslin for the body for ease in dressing. Value for your prized English doll would be $400.00.
Brenda

Hello Brenda,
I purchased this cute Educa teddy from a Steiff festival auction 2-3 years ago.
He measures 16" tall and has long curly mohair with a shorter mohair muzzle.
He has some obvious fur loss, mostly on his belly. I can feel a squeaker , but it is no longer functioning. For such a tall teddy, he is very light. Any additional information is welcome!
Best Regards,
Jill

Hi Jill,
One of Ken's favorite teddies was Bearkin by Edward Cramer. Your Cramer Bear has the wonderful appearance of their Heart shaped muzzle and a remnant color of the classic mouth. Cramer was one of the first manufactures to join the teddy bear craze of 1905. Originally formed in 1885 by his father-in-law as a toy factory, Edward Cramer took the reigns, and had his son also work for him. The Educa trademark was established in 1915. Your 16" closed mouth teddy has the very long mohair and dates to the 1930s. There is wear on the tummy, but the long golden mohair, glass eyes and perfect paws are noteworthy. What we loved about this company was the family succession through generations. We met the owner, who had to resurrect the family business. Reproductions are made today, and I must say, they are remarkable. Value for your "Golden Boy" would be $1,700.00. Brenda

Greetings Brenda,
The bear has been in a box with other childhood memories for about 40 years. I got him in the 60's. My dad was in the Air Force, so it could have been while I lived in Turkey or Holland. I always remember calling him Anker. He would make a little growl when I tipped him back. He is not fluffy at all. His bow around his neck is a faded yellow satin. His brown eyes have a black pupil and seem to be glass. He does not growl now. His nose is black and seem to be material. His mouth is like an inverted Y.
He is 20" tall and fully jointed. His hands and feet have peach like cloth pads. There are no names or other things
on him.
Thank you, Patricia

Hi Patricia,
What a legendary adventure for you and teddy bear, and the fact you still have him is endearing. He is German, most probably made by the Ernst LIebermann. The fur is mohair, the stuffing excelsior and his growler is non working. This latter nonworking feature is very common, as air gets into the mechanism and disrupts the tight seal, hence no sound is emitted. Family owned, the factory goes back to 1894 in Coburg. It survived with his son, Albert, (who was held in captivity), was finally released in 1946 to take over the company. So, your teddy would have this very eventful genealogy. The arms are straight, his body is round and full, and the ears are placed toward the top of the head. From their catalog, it seems the ribbons were yellow, green, blue or pink. They had a triangular hang tag from the neck with the ELI printed trademark. The felt feet are apricot toned. The eyes are brown glass, with a felt nose that is outlined in cord, and an inverted y mouth. Three claws placed rather far apart are another characteristic. Value today for your 1960s teddy would be $250.00. Brenda

Hi Brenda,
Having spoken with my mom about her bear, I can tell you that the bear is 13.5" tall, has a music box which is still fully operable.

As you can see, minimal wear and tear.

I await your results!

Thanks,
Scot

Hi Scott,
The musical teddy with long mohair is a German maker from Nuremberg. Founded in 1910, Josef Pitrmann joined a chorus of other makers in this city, and by 1921 formed his trademark "JoPi". Jopi toys were known for quality and design. The finest mohair, and wool felt for pads was used, along with expressive brown glass eyes. He has the Helvetic squeeze music box, and the concertina is also impressive. Noses were horizontally stitched in cord with an inverted Y mouth. Their tummies are round to incorporate the large music box. Josef died in 1938, so his wife Marie, and daughter continued the factory. During this time, the mohair was also offered in tipped colors. Marie passed away in 1956, a skilled worker in her own right. The daughter continued to exhibit at the 1959 Nuremberg Toy Fair, the last account of this firm. Your model dates to the 1920s, is functional, with slight wear. The red felt circle is an add on, to help with enjoying the tune and not disturbing the mohair. Steiff did this exact red felt idea in the 1950s, with "music" written in cursive on their teddies. Value for your musical 13 1/2" teddy would be $2,000.00
Brenda

Dear Brenda,
I bought this teddy bear on a second-hand site. At first glance I thought it was a Gokra but I doubt because the nose stitching is vertical instead of horizontal. He is about 60 cm (23 inch) tall, completely straw filled,very firm. Plastic eyes which i think the black pupils glued to the brown eyes because the right pupil seems to be shifted. The eyes are sewn in and fastened at the back of the head. He has cardboards in his feet and no holes in the hand and foot pads, the pads are a kind of linen fabric.
Nose and mouth stitching looks original, no claws on the hands and feet. The mohair is still beautiful, just a bald spot on his head. I feel a squeaker, but its no longer works.
I'm looking forward to your answer.
Greetings, Debbie

Hi Debbie,
Your large and very excellent teddy comes from Fechter of Austria. As your stated he looks to be Gotka, from the teardrop shaped pads. Fechter also used this technique. They have a very interesting background. Berta Fechter worked in the teddy bear industry as a sewer in Neustadt Germany in the 1930s. Their first factory was in Graz, Austria in 1946 and two years later relocated. Their first Toy Fair brought wide recognition for European dealers. They used German mohair to keep the quality. In 1963, they come back to just south of Graz with a warehouse. Their designs included arms placed high on the body, a vertically stitched nose and a Inverted V mouth. Your eyes are plastic, dating him to the 1960s. Berta died in 1973, and business stopped in 1978. An antique dealer bought the entire warehouse filled with toys, and imported them to the US. Sadly, Wm. died in 1985. This is why so many of the Fechter teddies are in excellent condition today. Your very large example with linen pads, standing feet, articulated joints, and inoperable voice is valued at $425.00.
Brenda

Dear Brenda,
I bought this beautiful teddy bear on a second-hand site from Holland. The lady herself did not know what brand the bear was. Very large growler for such a small bear, its no longer works. She is 45 cm tall (17") The mohair is pink, discolored in some places but still very bright on the back. Mohair loss on the face but still good on the body. I replaced the hand and foot pads, they were too broken to repair but I used the same color The feet are very pointed and the arms curved, Glass eyes, small hump on the back.
Completely straw filled but the growler is wrapped in kapok. No holes in the fabric. I am very curious about this bear, looking forward to your answer.
Greetings,
Debbie

Hi Debbie,
Your Holland purchase is not far from her German heritage! She most resembles the Hermann Eckstien Co., a doll and toy factory located in Neustadt near Coburg. Originally founded in 1899, they were know to support the "cottage industry of home workers". Their teddy bears joined the dolls, and in 1925, received their own DRGM request, (patent applied for). They were known to make large bears, some with open mouths and teeth while others had the horizontal nose cord and inverted Y mouth. They made two offerings in their qualities.. one in the modest range, and the other in the specialty range. Colored bears were advertised from 32-65cm, with growlers. Her arms are placed low on the body, granting her a shoulder area- maybe similar to the shoulder plates for dolls. They had three claws. Most German bears had humps on the back to simulate the shoulder blades of a natural bear. The mohair is vibrant and quite pink. She has large glass eyes, and cupped ears. The muzzle area is very prominent, and the hands have a slight curve and point upwards. She is quite "Rosy", fitting into the roaring twenties era herself! In 1945, the company ceased toy making, and went into men's and women's fashion garments. Value for your striking bear would be $650.00. Nice job on the pads!
Brenda

Dear Brenda,
I bought this teddy bear on eBay from Germany, I have no idea what brand the bear is but he seems old. He is 43 cm tall (17") and his mohair still looks nice, a little loss on some places on the back. He has 3 claws on the hands and feet, it seems original to me because the thread is discolored through time. He has a small head opposite his body, a very plump chest, a pointed snout, boot bottom
eyes and a non-working growler. He is completely straw filled but the hands are filled with kapok and the feet are a mixture of kapok with straw as you can see in the photos. When I bought him the pads were covered with fabric and luckily the original were still underneath. I am very curious about this bear, looking forward to your answer.
Greetings, Debbie

Hi Debbie,
Your German purchase has an English connection! This sweet faced teddy is related to the Deans Rag Book Co., originally established In 1903, for making rag toys from fabric. They were one of the first companies in England, and their first teddies were in the form of Knockabout cloth bears. They made various animals printed on fabric and sold these for the home sewer to cut and stuff. The mohair teddies were added In the 1920s, although some earlier examples were supposed to exist. Characteristics for Deans include an expressive face, three claws, little to no hump on the back, kapok stuffing and cupped ears with the vertically stitched cord nose. He dates to the 1930s, with long arms, large chubby feet and a prominently stitched nose with a smiling mouth. His body is long, and firmly stuffed with excelsior as well as his head, with a slight area for shoulders. The felt feet have a very thin felt, as the kapok has popped out in a few sections. This is very common as kapok expands with the slightest moisture. So glad you found original pads under the replacements! Growlers are very temperamental, the least bit of air can get into the mechanism, and no more voice. This does not affect the value. The hand closed seam is in the back, a common trait. Their triangular heads of the 30s resemble early Ideals.
Value for your 17" Deans teddy would be $400.00.
Brenda

Hi Brenda,
Banjo, stands about 10" tall and fully articulated. Made from what I believe to be mohair with show button eyes. The filling is very thick and heavy. He has no damage that I can see, has been well loved. I have no history of this bear and was curious as to the age, maker and value.
Jenny

Hi Jenny,
Banjo is an American teddy dating to the 1950s. He is a toy from Character Novelty Co. formed by two New Yorkers, Caesar Mangiapani and Jack Levy in 1932. Their line blossomed after WWII, with many stuffed teddy bears and animals. Their showroom in NY allowed them great exposure for all the major department stores. At 10", he is considered a doll sized teddy, five way jointed and stuffed with excelsior. The fur is mohair and he is in very good condition. A common trait for Character teddies is the felt circles behind the shoe button eyes. He has a shaven muzzle, with a hand sewn vertical cord nose and slight inverted V mouth. Some of their designs included a fleet red tongue under the mouth area. The claws are air brushed and he would have had a fabric ID tag attached to the seam on the left ear. This company had added fame when Elvis Presley released his 45 record, Teddy Bear, with a Character bear featured on the record jacket.
Value for this bear would be $175.00.
Brenda

Hi Brenda,

This bear belongs to my Mom and stands 16" tall with arms and legs that can be posed. The head remains stationary. The eyes appear to be plastic, and the filling feels very thick and heavy. There is some staining on the paw pads and some color fading on the back side of the bear. Curious as to the maker and age of the bear and possible value.

Jenny

Hi Jenny,
Your mother's teddy bear has provenance, since it's story is part of her background. If she has pictures of her and teddy, that elevates the value, especially for children with their toys. This is a wool fur teddy, very dense in coverage and in excellent condition. He came from the Shanghai Doll Factory, which was located in mainland China. They were formed after WWII, dating your mom's bear to the late 1950's-early 1960's. The four claws are sewn into the wool felt pads, while his nose and mouth also use this same cord. The nose is sewn in a vertical position. His eyes are plastic. His head has an inset muzzle for the nose area, and is a separate piece. They had two forms of ID when produced, the first being a foil rosette tag reading "SDF", and hung from the chest, and then a small fabric tag sewn into the left arm seam. The ears are large and cupped. At 16" he is considered a mid sized teddy with five way jointing. Value for this teddy is $125.00.
Brenda

Hi Brenda,

Clarence has been very well loved and appears to be in poor condition. I acquired him through a goodwill shop in Georgia. He is 10" tall, and appears to be filled with ground cork or rubber. He does appear to have temporarily repaired at one point. He has been in the shadow box for quite some time, and will remain there. I am very curious as to the age, maker and possible value on this bear as well.
Jenny

Hi Jenny,
Clarence is referred to as a crib bear, unjointed and safe for cuddling with baby. He is quite loved, and was somebody's dear companion. Nice that you rescued him! His characteristics of a black Pom Pom nose and plastic spangle eyes date him to the 1960s. He appears to be American from the back closing seam and the special eyes. Knickerbocker Toy Co. had early roots in America, creating the wooden lithograph blocks during the Victorian era. They introduced their teddy bears and other animals in the 1920s. Shirley Temple had many special toys, but her favorite bear was a Knickerbocker. Clarence's ears are flat and attached to the head seam. The stuffing is foam, which eventually breaks down into a hard composition. Reminiscent of this era, vintage, and his fur was mohair but is now a fabric backing. Value would be under $50.00.
Brenda

Hi Brenda,
The bear is about 14" tall and his face is in his tummy!
He was factory sealed in this plastic bag to keep him clean prior to being given to Maytag employees. He was not available to the public.

There is a commercial on you tube that features this teddy bear.

I paid $5 for this bear in October 2019.

Thank you,
Jenny

Hi Jenny,
You sure rescued a very limited edition teddy bear, made for the dedicated workers of Maytag. That emblem was used from 1960-2008, from the factory, labeling the product line of Maytag. What started as an American Company in 1893, Frederick Maytag, formed The Washing Machine Co. They were so well made and rarely needed repairs over the years, that their repairmen would take a back seat to a highly effective washing machine! Eventually, the product was produced outside the US, and reviews were declining. Whirlpool acquired them in 2006. So, your Anniversary bear marks 1907-2007, a hundred years of Maytag. It is a plush material, and probably manufactured overseas as well. As a collectible for advertising it would be valued at $50.-75.00. It was created for the repairmen commercial, as a replica.
Brenda

Hello Brenda

Hard to remember but I probably had my bear since my first year in 1966.
He is 10" tall. As a little boy my mom had to sew him in several places over time and when it became too torn in his neck, I stuffed the hole with foam and it has remained that way all these years. Obviously the name tag on his left ear is torn and worn off so I can't identify him. Clearly most of his fuzzy fur is worn off and I believe my mom even had to resew the mouth and add on new eye buttons or at the very least, his left eye. I hope you and your loved ones are all safe during this crazy time.
Thank you so much for your help, Jim


Hi Jim,
Thank you so much for your kind words about our present day situation! Your dear teddy has had an enormous amount of attention over the years, and so glad he has been with you the entire time. He is considered a crib bear, with the Unjointed of his arms, legs and head. In other words, safe for the baby. He is from the Character Novelty Co., based in Newark, CT in 1932. The firm was founded by Jack Levy and Caesar Mangiapani, both from NY. The sales were handled by Levy while the designs were created by Mangiapani. They did many variations on teddy bears, from mohair to plush fur, but a common trait shared was the felt circles placed under the shoe button eyes. A fabric white tag with the words, "Designed by ( printed letters) Character (cursive writing). With the woven backing still in good shape, it seems to have mohair remnants. Some of these teddies also had red felt tongues. The nose is a vertical cord, with the inverted Y mouth. Made famous in 1957 with Elvis Presley, this brand teddy appeared on the 45 record jacket- Teddy Bear. and Loving You was the flip side! Ironically, Character had a showroom in NY after 1945. NY was known as the toy capital of the US. Value for your much loved teddy would be increased if you have pictures of yourself with teddy, called provenance. As he is, $45.00 but his story is priceless! Brenda

Hello Brenda,
I purchased this bear off of eBay. There is little known history other than he was stated to be from the 1940s, and a "favorite first stuffed animal". I have named him "Eddie". I'm just curious if you might know the maker? I have looked through my various teddy bear books, and I cannot seem to find one exactly like him. He is 11" tall. Parts of him look Knickerbocker to me, but there are parts of him that do

not look Knickerbocker to me. I believe he's American, though? I am just very unsure of who his maker would have been, and I am hoping you will know.
Thank you!
Rebecca
Hi Rebecca,
Thank you for all the pictures of your Eddie! You see characteristics of Knickerbocker, with a bit of other traits. He is American, and is a Gund. Formed in 1898, by a German immigrant, Adolf Gund, started in Norwalk, CT and then moved to NY in the early 1900s. He made novelties, and in 1906, added teddy bears. Know for their over stitched pads and seams, the obvious stitching is fairly common. He dates to the 1950s , has long auburn mohair, amber glass eyes, a vertical stitched cord nose and an inverted Y mouth. The ears are not cupped, they are rather flat, and lined in the same velveteen ivory the are on the pads. There are no claws. His eyes are placed outside the head seam, while the mohair muzzle is shaven. He has a rather flat head in the side view, and slight hump on the back to resemble the real life shoulder pads. The ID cloth tag was sewn into the right side seam or into the arm seam. Some of these were called Teddi Gund. He is five way jointed. Gund hired a Russian immigrant in 1909, and enjoyed his work ethic so much, he eventually became Adolf's assistant. In 1925, Adolf retires and Jacob Swedlin ( his Russian friend), buys the business. Eventually, teddies were made in Korea. Value for your 11" mohair Gund bear is $200.00. Brenda

Good afternoon

I have discovered a vintage/antique bear I believe is from 1920s.

Any chance you could give me a valuation on bear please?


Many thanks

Tamara

Hi Tamara,
Your lovely handmade teddy does have characteristics of the early teddy bears and is made as a replica of this era. It has the CE label indicating the standardized identification for quality, a French abbreviation for "Conformite Europeene". Artists teddies started their storied adventures in the 1970s, when Beverly Port decided to make a companion for her dolls. She is known as the original teddy bear artist, and supported the art of making bears from this point onward. Your small sized teddy, under 12", is considered a doll sized bear. It was lovingly made in England, probably in the 1990s. He is mohair, has wool felt pads and is five way jointed. The eyes are shoe buttons, matching the original eyes used in the early bears. The nose is a hand stitched cord, done in a vertical design. He has a hand sewn closure seam on the back, and is most probably stuffed with a polyester fill. I have seen a few wonderful teddies from this Abbey Churchyard Co.- supporting the teddy artists. They receive their inspiration from the teddies of yesteryear, and then design and create their own! Most artists develop their own patterns, to keep the craft original.
England has the only print magazine now for artists and antique teddy bear collectors. They are still known for the best films of teddy bears, with Winnie the Pooh and Paddington. Both were English creations! Your little keepsake would be valued at $95.00.
Brenda

Hi Brenda,

I think it may have belonged to my great grandmother, and it might be from the 1900's. It is very small, and has an iron rod construction.
I thought it might be a Steiff bear from 1904-05, but can't be certain. Sadly, he has no arms! He is stuffed with excelsior, has a small 'dip' between the 'bumps' on both sides of his head, where the ears go. He 8" tall. It has metal in the legs and through the head (neck) area. I think his eyes were black shoe buttons.
Thank you,
Tricia

Hi Trish,
You have a wonderful keepsake in your much loved teddy! He must have done so much hugging, he gave his arms in such embraces. He is French, from the Emile Thiennot manufacturer, located in Piney, France. Emile worked originally for Pintel, the first factory established for stuffed bears in France. In 1919, he left Pintel and established his own firm, Le Jouet Champenois. They were quite successful p, and won a medal in 1920 at a Toy Fair in France. The jointing of the arms and legs was a common characteristic with the button cotter pin rod inserted through the body. Other manufactures did this jointing on the inside— with cotter pins attached to cardboard discs. Many French bears have unjointed heads, with thick bodies and a wide shoulder area. Your is an early example, dating to 1920. The common stuffing was excelsior, as his name implies. This enabled him to keep his great physique all these years. Yes, he is a true antique with the 100 years of existence. The shoe button eyes were early choices, and original. These were never marked with an ID tag or button. Wool felt hand pads would have matched the foot pads. The teddy bear size of 8-10" was considered doll sized. With a horizontal cord nose and down turned cord mouth, he has traits of this period. His fur is worn, but the mohair backing is good. This fabled company continued to make bears until 1993. His value is about $150.00 as is. Your provenance (his human ownership) contributes a sentimental value as well. Enjoy! Brenda

Hello Brenda,
We call him "Grandpa" and he is 21" tall. When rocked, it sounds like a "growler" is inside, but it's not working. Obviously there is a distinctive hump back. The short golden mohair does not look to be worn except for the slight loss to his head. He has large amber glass eyes with big black pupils. He has jointed head, arms and legs. The curved arms measure 8", while the legs are 9" and have upturned paws. He is very firmly stuffed with excelsior. I see no signs of repair other than the pads may have been replaced. There is a 1" separation to the seem on his back.
I especially like Grandpa's tall standing ears with the fuzzy fur that feels like a caterpillar.
Thank you, Jeff

Hi Jeff,
Grandpa is the perfect name for such a distinguished teddy! He is solidly stuffed with excelsior, had a growler, and appears to be German with the accentuated hump on his back. Actually, that hump is representative of the shoulder blades coming together in a real bear. On all fours it is really evident! The company he most resembles is Petz, a toy factory in Neustadt near Coburg, run by the Kiesewetter family. They formed early in 1859, but documentation is sketchy on what the early pieces were. In fact, almost every family in Neustadt was in the toy industry. Anton Kiesewetter Jr. was credited with many designs and plush animals in the 1920s. They had a labor saving technique of inserting some of the teddies with sliced in ears. A hole was created on the head, for insertion of the ears, placed deeply into the socket with a touch of glue to adhere it to the head. This technique created a tucked in look for the ears. Mohair was common for their bears, but they also had a lesser quality offered in a plush. The arms are placed lower on the shoulders, felt pads and claws, and a full body. In the 1950s, a milk glass button with the word PETZ was inscribed on this button, sewn to the left chest area. Your teddy dates to the 1930s, has glass eyes and a simple horizontally cord nose. His chubby feet, slight shorter arms, and defined muzzle, all give him a good presence. Grandpa at 21", is a large sized bear, in very good condition with short gold mohair, and would be valued at $450.00.

Brenda

How much is your beloved bear worth?

Ask Brenda Yenke

Appraisals are $20.00 for each item. (Bears, stuffed animals, vintage toys too)

Use PayPal (link below) to pay.

Send your bear photos to:

Please include as much information about your bears as possible: size, how it was acquired, various poses, and 5-12 photos attached to the email.Not inserted please.

---

Do we have permission to show your bear
on this web page?

Only your first name will be published.
Please give us permission when you send your
photos in your email.

---

Available: Evaluation Certificate

Document contains a photo of your bear, the email request from you describing the bear, and the appraisal by Brenda.

The Evaluation Certificate will come to you in a pdf format for you to print and keep with your beloved bear.

Certificates are $10.00

for each bear.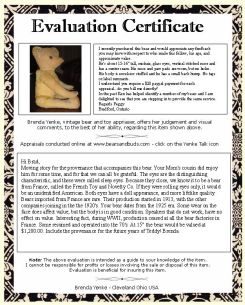 OR after a paid appraisal, should you wish an Evaluation Certificate, please use this PayPal button for ordering.
Please state the name of the bear in the comment box.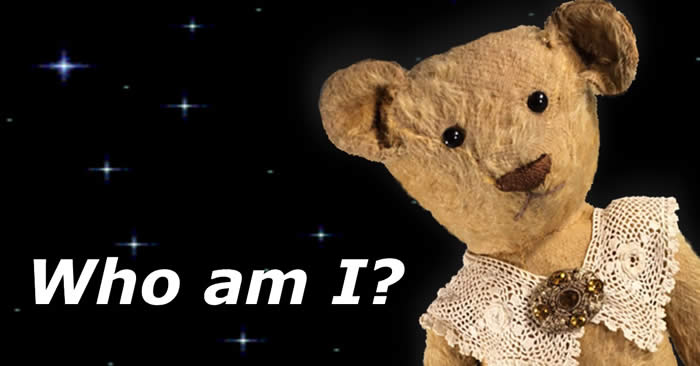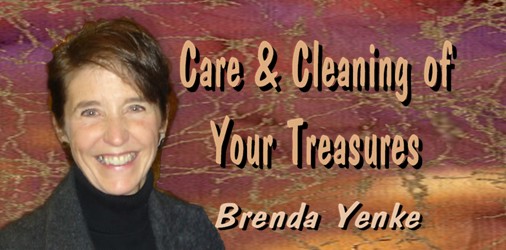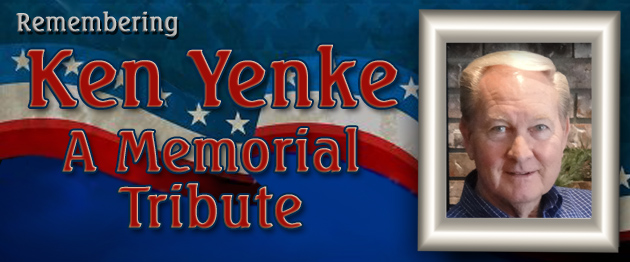 ---
Collectors - if you like reading articles like this, why not subscribe to Bears&Buds?
Just $15.00 a year. You'll receive a collector's lapel pin and a password to enter the Collectors' page where you'll find more wonderful articles..
---
Artists
-

would you like to be seen by our worldwide readers each month?
Become a Professional Artist-Member of Bears&Buds today!
Advertise FREE! Your membership password will take you to the B2B section loaded with selling, making and how-to ideas.
---