In addition, Kat likes to let material inspire the design; sometimes adding a crystal pendant.
"I get inspiration from nature. I love to walk in the woods. I love the smells and sounds there and I love watching the animals."
She's very lucky to have a wonderful view from her home in Brierley, a village in Barnsley, South Yorkshire, England where she lives with her husband and German Shepherd dog. The village gave her the inspiration for her company name, Brierley Bears.
Kat runs the gambit of styles, producing traditional and fluffy bears, steam punk, fairies and even punk bears with lots of piercings. She creates hares, rabbits, squirrels and even a koala and unicorn.
In addition, she fills her life with dragons, enjoys reading old myths and Gothic horrors stories and is teaching herself to read tarot and oracle cards.
Her unique style finds its way into her life right down to "rocking out" with heavy metal or old rock while creating her treasury of furry friends.
Kat sells her bears from her web site and through several bear/craft fairs in the UK.
Her talents have earned her recognition in several teddy bear magazines and local papers, along with awards in several international competitions.
Her style in life and in bear making has a sense of freedom to it that flows.
"I never really plan what I am going to make. I like to have a little spark of an idea and just go with the flow."
Sometimes, a craft fair may have a theme and she will try to work with that but, she said, "either way, the bears have a mind of their own and turn out the way that they want to."
Kat Hartley
Brierley Bears
Member since April 2013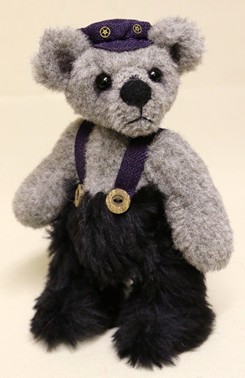 Bertie