Here is the teddy bear responsible for our addiction - err ... our collection. We call him The Professor. If you look closely you can spot the cat hair and dandruff on his sweater!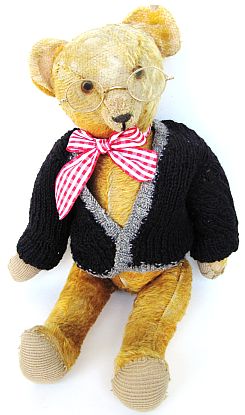 ---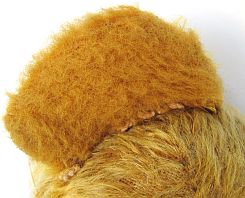 The back of the Professor's ear and if it looks strangely like someone's bathrobe, there is good reason for it was cut out of my robe!
First, a brief history on how and when we were bitten by the dreaded TB bug (as in Teddy Bear).
It was in the 1970s, and we had been buying and selling antique toys and dolls. A doll collector told us to keep an eye out for an old teddy bear that she could add to her doll collection. Sure enough, the very next antique market we attended we spotted an old bear casually thrown in a box under a dealer's table. We grabbed his leg and pulled him up to discover he had an ear missing. "How much for the bear?" we asked the dealer. "Twenty Five dollars" was his reply. I thought that was a bit much, considering his missing ear, but Doris said "We'll take it" before I had a chance to wheel and deal over the price.
When we arrived back home, Doris immediately dusted off the bear and slipped an old doll sweater on him. She added a pair of wire rim glasses which seemed to bring him to life, but there was still the problem of the missing ear.
Doris set about removing the good ear, and by then I had learned to give her some space and not question her actions, and to my surprise and delight, she managed to dissect the good ear into two parts (front & back), then found some similar looking fabric and created two ears; old fronts, new backs. The ears looked great. It was sometime later that I discovered where she found the backing fabric when I reached in my closet to pull out my old bathrobe and discovered two small circular pieces had been removed from the back! That was my first lesson in understanding that nothing is sacred when it comes to teddy bears!
Our youngest daughter looked at the completed teddy and said "He looks just like my professor at school; cat hair and dandruff and all!" Our very first teddy was officially named The Professor.
Now we had every good intention of passing the bear along to the doll collector, but I decided it would be fun to display him in our booth at shows. Having him holding a sign that said "Wanted - Old Teddy Bears." He worked his magic, and before we knew it, we started to accumulate teddy bears.
Keep in mind that in those early days, we considered it an outrage to pay $100.00 for an early teddy bear! Each time we discussed when to start selling the bears, we both had the same thought - "Let's just wait a bit until we have a good number to sell."
As the years passed, we no longer entertained the idea of selling them.
Bear in mind (pardon the pun), there were no artist bears available at that time, so the choices were children's bears from a department store or vintage and antique bears. Since our original goal was to buy bears for resale, our efforts were concentrated on antique bears. Little did we realize that, about the same time frame, Beverly Port was initiating the creation of "the Artist bear" that would dramatically impact the world of teddy bear collecting.
Having dealt with antiques and collectibles for about 35 years, we have always been aware of the secondary market for collectibles; now and in the future. This can become a consideration when collecting teddy bears or most anything, but first you need to analyze why you are collecting.
If you simply love having a cute, cuddly teddy around and are not concerned with what it is made of, how it was made or by whom, then you have no need to worry about building a collection that will mature in value or maintain your investment.
For those who do want to consider quality over quantity, there are a number of considerations. First, buy the very best you can afford. That applies to all bears, whether they are antique, Artist made or produced in a factory.
You'll be confronted with a wide array of choices in each of these categories. The best example in the category of manufactured teddy bears would be choosing between a bear mass produced of low cost materials for the children's market versus a beautiful mohair teddy bear with the name Steiff on the tag. It's true, there will be a wide spread in the cost of each of these examples, but there will be an equally wide spread in their secondary market value 10 or 20 years from now.
This same logic applies to Artist teddy bears. Some artists choose to create their teddies with a low cost plush fabric and other inexpensive materials, while the more successful artists use only the very best mohair they can find.
There may be a discrepancy in the retail price depending on the Artist's following and reputation, but you simply are in a better position to build a quality collection by going with the best quality you can afford. It's true that we all have a variance in discretionary funds to use, but regardless of what your limits are, you can still apply the "buy the best" rule to fit within your budget.
When it comes to antique teddy bears, we turned to Ken and Brenda Yenke, two of the most knowledgeable people on teddy bear collecting and it has been our pleasure to deal with over the years.
Ken has written several books on the subject. In chapter 4 of his "Teddy Bear Treasury" book he shares some great advice. It is appropriately titled "Collecting not Accumulating", and that pretty well sums it up.
Ken points out that attempting to collect the very best of anything requires much study and research.
He suggests that collectors should try to become an expert. You do this by learning everything you can on the subject. There are many excellent reference books about our exciting hobby and we have a library that contains dozens of these books.
I personally learn something each time I pick up one of the books, even though I have read it many times in the past.

Ken shares his Keys to Collecting;
K. Keep heirlooms and items with provenance and build from there.
E. Education. There is no replacement for reading and building a library on your favorite collectible.
Y. Yearly inspection of your collection to see that light, water, bugs etc. are not hurting it. But a great reason for the yearly inspection is so that you will re-live, and re-feel the excitement you felt when you first purchased each item.
S. Sharing. is a real key to collecting. Shared joy is twice the joy. Get a husband, wife, sister, son, daughter, mother or friend to learn about and share your collection.

Another way to broaden your education is to attend teddy bear shows and discuss the subject with other collectors and with some of the Artists and experts in attendance.
If you haven't discovered it already, you will find that teddy bear collectors are a special breed of people who are nearly all very friendly and open. We always come away from shows with that warm feeling of having spent time with the greatest people on earth.

Teddy Bear shows are held all over the world today. Check Bears&Buds' complete show schedule to find a show close to you!
One step that is often overlooked by collectors is obtaining insurance for their collection. It may surprise you to learn that most Homeowner's Insurance policies have a Fine Arts Rider available that will provide good coverage at a reasonable price that will vary from one company to another but typically the cost runs from 25 cents to $2.00 per hundred dollars worth of coverage. It will depend on what you are insuring - Antique, Artist made or manufactured teddy bears, but you will never regret getting good coverage, since we simply do not know what the future holds.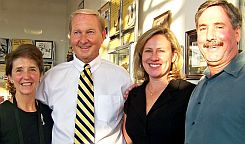 Brenda and Ken Yenke with Kara and Bob Turner (R), owners of the Chelsea Teddy Bear Museum and Factory, where the Yenke's exhibit much of their world famous Antique teddy collection."
---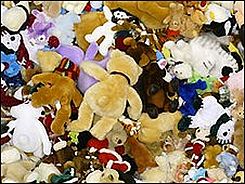 This classifies as an accumulation.
---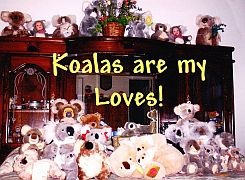 Collector features Koala's only in her collection.
---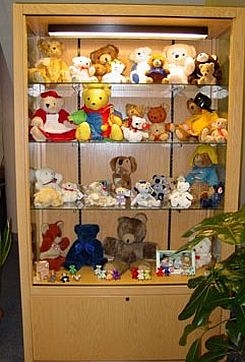 A nice display of a collection of teddy bears.
---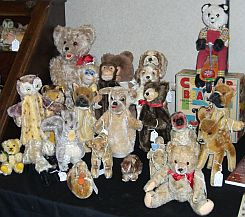 The Yenke's always have a selection of choice antique bears at their booth.
---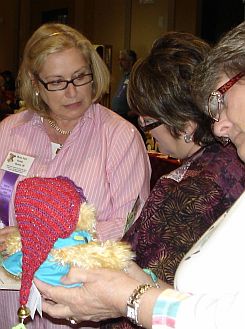 Teddy Bear Artist Marion Fraile of Bearkids shares her expertise with a collector at teddy bear show.
---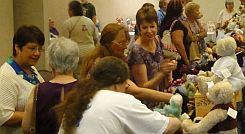 Collectors share their knowledge at shows for everyone's benefit.
---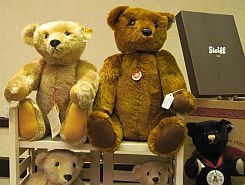 Antique teddies can be found at shows and top names such as Steiff.
---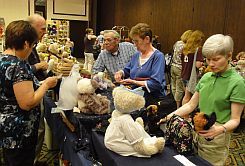 Decisions, decisions as collectors ponder over bears. Teddy Bear Shows give them the widest variety of teddy bears and an opportunity to meet the creative artists.