Having worked in the field of advertising for a dozen years or more,
I know the secret to selling a product is to first get the customer's attention, then pitch the product.
Our beloved teddy bear made the scene in 1903 and quickly became immensely popular. His sudden fame caught the eye of producers of a whole range of goods and they were quick to put teddy to work selling their particular product.
As early as 1907, the makers of Cracker Jacks produced a set of 16 post cards featuring President Theodore "Teddy" Roosevelt and the Cracker Jack bears.
A single card was inserted into each box of Cracker Jacks, or you could mail in 10 package sides and get the complete set of cards by return mail. These adorable cards are equally collected by teddy bear collectors, advertising collectors, Cracker Jack prize collectors and post card collectors, creating a strong competition when the cards show
up for sale.
Teddy bears have been used in hundreds of advertising campaigns throughout the world, nationally and regionally. It would likely take a year or two of dedicated research to come up with a list that might include most of the products, but short of that, here are some of the products and companies that have used a bear to sell their wares.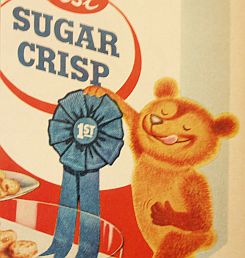 Sugar Bear for Post Sugar Crisp cereals past and present.
---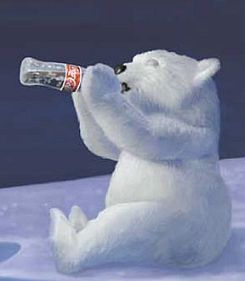 Polar Bears for Coca Cola
---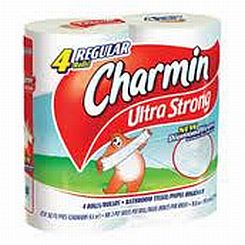 Grizzly Bear family for Charmin toilet tissue.
---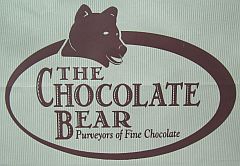 The Chocolate Bear Candy Company
in Waynesville North Carolina
---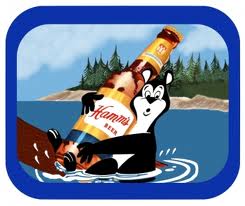 Hamm's Beer Bear
---
This list just scratches the surface.
---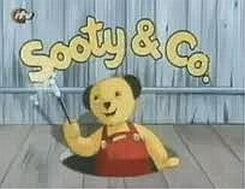 Sooty bear working his charm in Britain.
---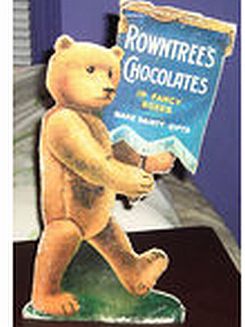 Rountree chocolates based in York, England
---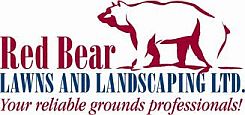 Red Bear Landscaping in Canada
---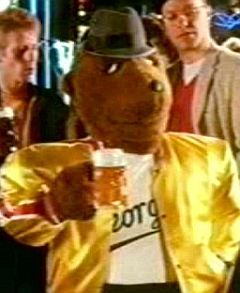 George Hofmeister beer bear (Britain)
---
Other bears used in another form of advertising would include Misha for the 1980 summer Olympics, and the ever popular Smokey Bear for the U.S. Forest Service.
We did a story about a giant 40 inch teddy bear that was believed to have come from a Teddy Bear Bread company in Detroit, Michigan. Unfortunately the owners did not have any additional details. However, one of the joys of writing are the follow-up letters that come our way, and sure enough, after our story was published we got a letter from a Dr. Phyllis Gore of North Carolina and she was able to provide the bear's background.
The bakery that originally owned the bear was the Wagner Baking Company, makers of Teddy Bear Bread. She provided a picture of a calendar from 1913 showing several of the bears with her late sister as a child. The baking company was owned by her Grandfather, and she said that the bakery actually had 5 such bears they used in various displays.
We devoted a chapter to her lovely story, along with additional pictures in our book "Teddy Tales - Bears Repeating Too!"
If we were to award a prize for the top bear salesman, that choice is a simple one.
It would go to Winnie The Pooh. True, he started life as a lovable children's book character, then graduated to short subject films, followed by feature films of Pooh and all his friends under the Disney label.
The Disney folks were fully aware of Pooh's immense attraction and they were happy to license the use of Pooh to promote all manner of products. My research did not produce a list of licensed Pooh products, but we do know that over 1000 licensees paid for the rights in Europe alone, with an estimated 5000 products licensed worldwide! The list of actual products includes figurines, music boxes, cell phones, baby merchandise, gardening products, textiles to name but a few. The list is endless.