Mention the name Winnie The Pooh and we tend to visualize the bear that has been shared in movies around the world by The Walt Disney Company.
But there is much more to our good friend as you will discover when you read the delightful new book by British author Shirley Harrison (published by Pelican Publishing Company).
The author is well suited to share previously unpublished information and photographs about the history of the original bear, the author A.A. Milne, Christopher Robin, his mother, the family Nanny and the profound effect (both good and bad) the people and Pooh and friends had on each other.

The author, a freelance journalist, operated a preschool playgroup in Hartfield, the town where Christopher Robin and his collection of animal friends spent time at Cotchford Farm, the family summer home. Harrison interviewed Christopher's mother Daphne Milne and shares well researched details, along with facts behind some of the myths surrounding the bear - the boy - and the family.

One would assume that enormous success of the Pooh books would have brought great joy to the author A.A. Milne and to Christopher Robin, but in fact the author considered himself a renowned playwright first and foremost and never really took pride in his work as a children's book author.
Christopher Robin suffered many taunts in school because of his fame and distanced himself as best he could from the bear and the books as he grew up.

A.A. Milne was known to family and friends by his nickname, "Blue", his wife Daphne was called "Daff" for short, and Christopher was always called "Moon", a nickname that came about because he had difficulty pronouncing the family name Milne as a child.
The bear, originally known as Edward, was a birthday gift for Moon's first birthday in 1921. It was a teddy produced by the British firm of J.K. Farnell and purchased in the toy department of Harrod's Department Store.
Piglet also joined the family and was first known as Poglet. Eeyore was a Christmas present that same year, with Kanga and baby Roo added later.
Owl and Rabbit were simply fictional characters added to the stories by author Milne.
The family also had real animals at the farm, including a cat named Pinkle (but called Tattoo) and a kitten called Pinkle Purr. Jessica the donkey was used to transport Moon into the village, led by his Nanny Olive Brand, known simply as "Nou."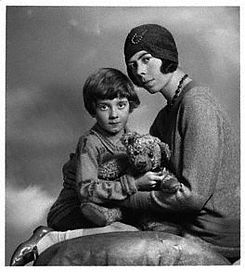 Christopher Robin with his mom and Pooh.
---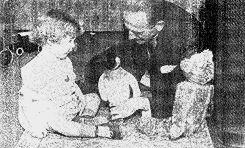 Our young friend and his bear share a
moment with Christopher's father.
---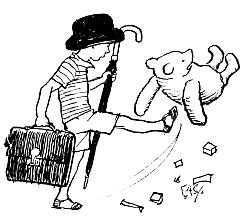 Christopher Robin is ready for school and bravely attempts to put Pooh out of his life.
---