Any time we hear the name Steiff, we automatically visualize a delightful teddy bear - perhaps a hundred years old, or perhaps a brand new teddy.
Rarely do we associate this venerable name with other plush animals, but the fact is, Steiff made other creatures before the teddy bear was born.

It is certainly true that a very large part of the company's production is geared for our lovable teddy bears, and you might be amazed at how many animals are crafted by this company and how many people collect them.
You say that these Steiff animals will never reach the value of Steiff teddy bears? That may be true, but we found some secondary market auction prices that certainly got our attention.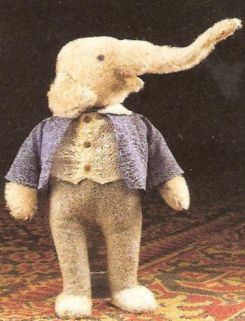 How about a Steiff 1930's elephant that sold for over $3,000.00?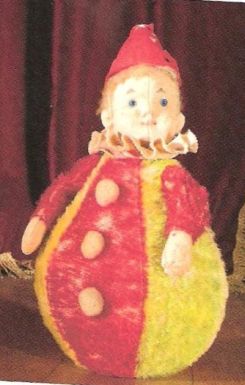 Or a 1910 Roly Poly that sold in the same price range.
Or the famous Steiff Elephant pin cushion, a late 1920s model, that brought $2,990.00. ( The photo is a version from the 1930s.)
Or an early 20th century set of Steiff Skittles dogs, hammered down for $5,428.00!
You might argue that these examples brought exceptional prices because of their age, but even those Steiff animals produced in the Baby Boomer years can achieve good prices on the secondary market.
A check of recent sales on eBay shows that Steiff animals, from the 1950s and 60s, were sold in a range from $20.00 to $100.00, with a good number of them in the $50.00 to $75.00 range.
We start our search for Steiff non-bear creatures by going back to the company's very beginnings.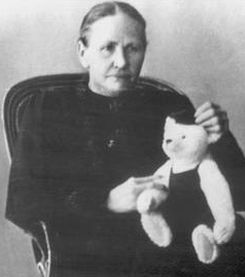 Margaret Steiff (1847 - 1909) , who was wheelchair bound, took sewing classes in school, and in the 1850s she and an older sister started a home-based business making clothing.
By 1879 she produced felt clothing under her own name. It was in that year that she crafted some elephant-shaped pincushions for her family and friends. They quickly became so popular that she added them to her line of goods for sale.
The elephant became the company's trademark, a cherished button found in the earliest Steiff animals and bears. In 1886 the Steiff company was producing 5,500 pieces annually, including riding and pull toys.
Business was growing rapidly, so in 1889 a move was made into a factory building.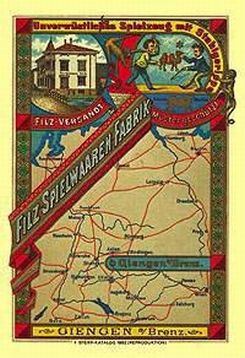 By 1893 Steiff produced their first catalogue, which included a variety of stuffed animals such as dogs, donkeys, lions and other charming pieces that included dolls.
Margarete's nephew Richard joined the firm in the 1890s. An artist, he designed a selection of zoo animals that were introduced at the famed Leipzig Toy Fair in 1894.
It was after the turn of the century that Richard Steiff produced a drawing of bears that were to become what we know today as the beloved Teddy Bear.