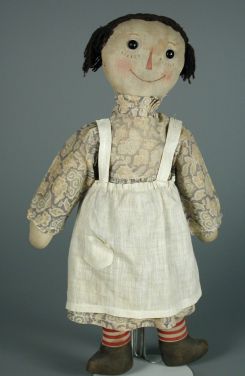 An early Raggedy Ann by Volland.
---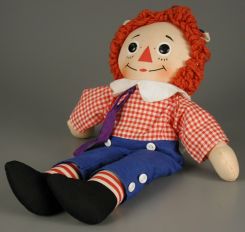 Ann's lifetime companion
Raggedy Andy
---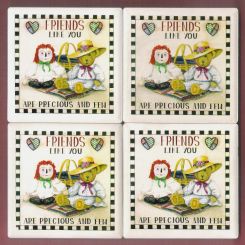 Postage stamps showing our two good friends.

Photo from www.onlineauction.com
---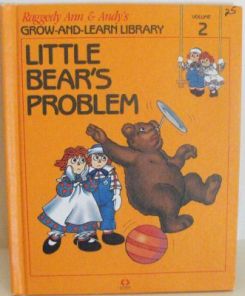 "Little Bear's Problem" was from the Grow & Learn Library series.
Photo: www.Timelesstrinkets.com

Terry & Doris Michaud
Members since March 2009
In keeping with this magazines title "Bears and Buds", we will occasionally do a feature on one of Teddy's "buds." This is such a story.
If you were to ask someone who grew up in Britain who Teddy's best friend was, they would undoubtedly state that it was Golli. The two characters were commonly found with children's playthings from the 1920s to the 1950s era in Britain.
The Golliwog actually predates Teddy by a few years, a creation by an American writer (Florence Upton) in 1895.
Today Gollies can be somewhat of a controversial figure, but they are still highly collectible.

Actually the good friend we are referring to is Raggedy Ann. This very unique doll celebrates her 95th birthday this year, and since teddy has turned 108 this year, they are found together in both teddy and doll collections frequently.
Raggedy Ann does have her "best bud" Raggedy Andy who is always close at hand, but you can be sure that teddy is a welcome companion as well.

Raggedy Ann was created by Johnny Gruelle, a cartoonist who worked with comic characters and illustrated children's books. His daughter Marcella brought him an old rag doll in 1915, and he promptly drew a face on the doll and called it Raggedy Ann. He also wrote a book about the doll, and when the publisher arranged to sell dolls with the book, it proved to be a major hit.
Over the years, Gruelle wrote 20 books about this popular doll and her adventures. He passed away at the age of 58, but his stories have continued by other authors because of the demand of an adoring public.
Raggedy Ann has been produced in every size imaginable, from miniatures to life size.
Her production has been licensed to a host of manufacturers, including Volland, Molly's, Georgene, Knickerbocker, Applause and others, and she continues to be a popular collectible regardless of when she was produced.
Raggedy Ann has been lovingly crafted by mothers and grandmothers through the use of commercial patterns available today.
Collectors are quick to point out the variations in designs that have been made over the years, such as leg stripes, stockings in a variety of colors, and even some modest changes in her face.
Some of the other characters that Johnny Gruelle included in his stories have also been produced as rag dolls. Two that are in particular demand by collectors are the early versions of the Camel with Wrinkled Knees and Beloved Belindy. They are much harder to find as they were manufactured in much smaller numbers. The secondary market for Raggedy Ann and her friends is strongly dependent on condition and age, but good examples can bring top prices.
The Strong National Museum of Play in Rochester, New York has an extensive collection of Raggedy Ann memorabilia which they acquired in 1999 from Joni Gruelle Wannamaker, granddaughter of the creator. (see photos below).
The Raggedy Ann display at the museum includes a dramatic 6 foot tall version of this cherished doll, plus more than one hundred additional Raggedy Ann and Andy dolls and related collectibles.
The entire collection includes more than 1000 items, from cups and silverware, snow globes, board games, and of course the highly collectible books themselves.