One of the things that makes a teddy bear a great companion is that they are very good at keeping secrets.
We can share our deepest, private feelings with a teddy and know that it will remain with him forever. Of course, one of the reasons he keeps secrets so well is that he can't talk.
OK, so that all changed when Teddy Ruxpin came along in 1985 and was an instant hit as the world's first talking teddy bear. Of course there have been talking teddy bears going back many years - if you include the likes of Winnie the Pooh, Yogi Bear and our forest Ranger friend Smokey Bear - and a number of other characters on television.
As we enter into the modern age of computers, we find teddy bear laptops, a GPS Talking Teddy that guides you when traveling, a teddy bear spy camera to keep you alert of problems in the nursery, and even a teddy bear that can Twitter!
While talking teddy bears are an interesting novelty, we are more interested in teddies that have a different kind of secret.
As you go back through the history of various bear producers, there are some fascinating teddies that contain secrets within them.
The German manufacturer of Schuco is noted for a line of teddies that contained a variety of secrets within. They had a removable head and a hinged body that opened to reveal a compact complete with powder puff - a manicure set - or a perfume bottle.
Other designs by Schuco included the Janus bear and when you twisted the knob at the base his head swiveled around to reveal yet another face.
Schuco also crafted teddies that performed tumbling acrobatics and bears that could nod "yes" or "no" when you moved his tail. When a Schuco teddy shows up on the auction block, you can be sure it will command a strong price.

The British children were fond of teddy bears that had a compartment inside where they stored their pajamas. In England these bears are referred to as Night Dress cases, while we generally call them Pajama Bags. They were produced over a extended time period by various teddy manufacturers, but were most popular in Britain.
Another teddy that is prized by collectors is the vintage teddy with a musical movement within his body. When you squeeze his tummy he plays a delightful music box tune, most of which were Swiss music boxes. As you pushed in on the belly, it would play a short series of sounds, and continue with a brief series when you released the pressure. You continued to squeeze and release to play the entire tune.
Other forms of musical teddy bears were designed that operated by moving the bear's head back and forth, while some of the more basic designs had a hand crank that protruded from the back.

A review of some of the excellent books on antique teddies will lead you to discover some amazing teddy bear designs that have secrets to share.
Ken and Brenda Yenke have an astounding collection of antique teddy bears that include many of the rare and unique teddies that have secrets to share, as shown in their delightful Teddy Bear books. They have authored 3 books; Teddy Bear Treasury volumes 1 and 2, and Bing Bears and Toys with price guide. A large portion of their collection can be seen at The Chelsea Teddy Bear Factory and Toy Museum.

One of the greatest finds of a teddy bear with a secret was a teddy we acquired on one of our regular bear hunting trips to Britain. The year was 1983, and as we approached the end of the trip we made one last visit to a street market.
Doris came upon a rather nondescript looking knitted bear and suggested that he should join our collection. I pointed out to her that we were there to buy mohair bears and not hand knit bears.
She responded that he was only 5 Pounds (under $10), so that overcame my reluctance and he made the trip back home with us.
Several months past, and a friend who was visiting, examined the bear and commented that he seemed extremely firm for a knitted bear.
Doris exclaimed "I wonder what he is stuffed with" and examined him a little closer. She discovered a a half hidden draw string at the neck and carefully untied the knot. As she pulled back the knitting, she made a whoop and a holler and said in a voice I am sure the neighbors heard "OH, MY GOD - THERE'S ANOTHER BEAR UNDER HERE! TERRY, COME HERE."
I learned years ago that when her commands are at a high volume, it is wise to respond immediately.
By the time I made my appearance she had the knitting pulled back and we were thrilled to find a well worn and patched teddy hiding under all the knitting. The body, head and each limb had been carefully covered separately.
Doris enjoys knitting, and she said that whoever took the time to cover this bear must have loved it dearly. He joined our collection and became known as "Me and My Shadow."

Next time you see a teddy bear for sale. look a bit closer, for he may have a secret to share with you.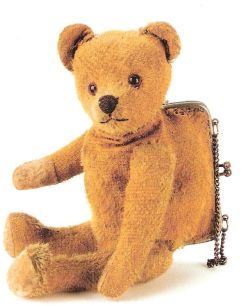 1920's teddy bear purse. 9 ½ inches high.
---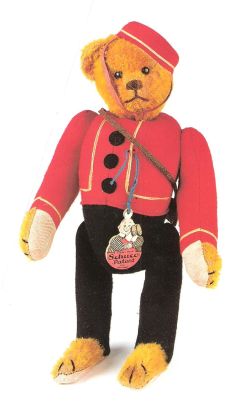 A rare Schuco yes/no bear circa 1925 with original tag on this bell hop.
---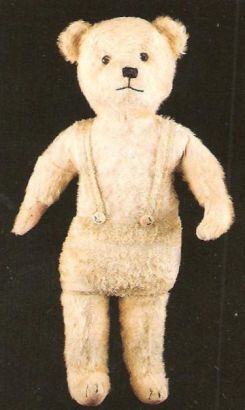 21 ½ inch British Night Dress case.
---

This 15 ½ inch Jopi bear has the pressure-operated musical movement in his tummy.
---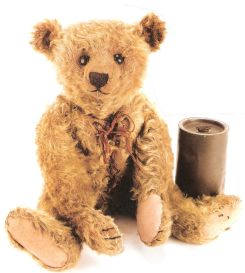 This very rare Steiff hot water bottle teddy dates to 1907 and is shown with the original water canister.
---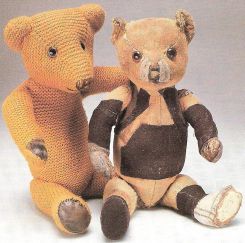 After purchasing this knitted bear in England, we discovered the patched and worn teddy hiding inside!
Photo by author.

Terry & Doris Michaud
Members since March 2009
Photos courtesy of Christie's Auctions unless otherwise noted.