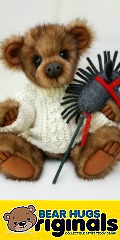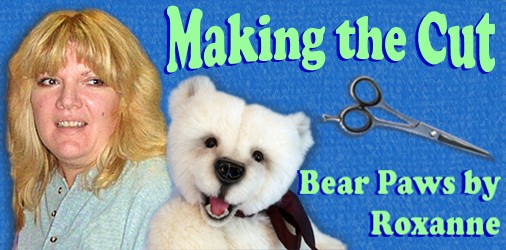 Roxanne Propp June 2008
Jun

Roxanne Propp seems to have always had scissors in her hands. When she was 16 years old, she entered cosmetology school and obtained her license at the tender age of 17. Now, she has parlayed her skills into another venue, creating detailed, realistic featured teddy bears.

"I have always been the creative type," she stated. "It seemed like it just evolved from doing crafts like tole-art painting, quilting and polymer accessible dolls into mohair bears."She began to make bears after purchasing books and magazines on the subject.

Ku Chi

Finding inspiration from other artists who created realistic looking bears, she took the cue and started designing her own patterns.

Now, surrounded by piles of patterns she's designed, Roxanne spends days working on open-mouth bears which can take 2 to 3 days to complete.

"I always begin with the head. If the head doesn't meet my approval, there is no reason to continue," she remarked, "I just start another head."

Maximillion

Roxanne is well known for her open-mouth bears. Originally she created her bears with just an ultra-suede tongue, she now designs and adds a lower pallet insert which includes teeth and gums. "I want them to look like they have a smile on," she said, "I just hope that when my bears are received, that they bring a big smile to the collector's face."

Adding details using the airbrush, her bears seem to come alive. With her cosmetology "roots showing", she draws inspiration from the world of clowns and the circus. "I think it's the idea of being "made up" with make up and costumes, hats and ruffles that I truly love," she added smiling.
"If I was not for bear making, I would still be working as a cosmetologist; fluffing, cutting and coloring human hair instead of mohair."

Currently Roxanne resides in Odessa, Texas with her husband, James, of 27 years. She finds selling her bears on the Internet works best for her. "I live in west Texas where I am hundreds of miles away from any teddy bear shows," she said. So for now, the internet serves as her showroom.

In addition to her own web site, she uses auction sites as well.


Although her two children, Robby and Cassandra, are grown, they remain close, she adds, "My family is my life."

Ashlin

Bear making has also given Roxanne some endearing moments with her family. "If there was anyone I could make a bear for again, it would be my mother. Before she passed, I had made her a bear or two. She would go from one hospital to the next with my bears sitting on the hospitals' window ledge to keep her company," she recalled fondly. "I felt it made her feel like we were there together, connected somehow, as she was my biggest supporter."

Nowadays, when Roxanne is not making bears, she fills her days with a variety of hobbies from baking treats for her family to soap making.

"I love baking. Love making cakes, cupcakes and whatever other sweet delights there are." Adding, "with soap making, it's just so fun to make soap entirely from scratch and it's so soft and smooth on your skin."


Qiu


With so many hobbies and family functions filling her days, it is hard to believe there could be more time, but there is. She has several of her bears featured in a children's book called, "The Backyard Bears Present The Story of Christmas, A Nativity Play," written by Karen Schuler and Roxanne also maintains an online blog called "Bearin It."

Roxanne Propp is definitely someone to keep your eyes on, this is if you can keep up with her.

Victor

Luka

Giggles

Beau

Roxanne Propp

Member since March 2008

Dawn