The dates of June 25 to July 5 this year will long be remembered by the guests who joined our annual British Collectors' tour.
The original tours started over 25 years ago and were then titled "British Teddy Tours", but it didn't take long to recognize that most bear collectors also collect other things; in some cases, many other things! We soon changed the name to the British Collectors' Tour so that we could emphasize the fact that it is not all about teddy bear hunting.
To be sure, we do include several teddy bear specialty shops and other bear-related activities and add a good mix of antique markets and shops, street markets, boutiques, castles, gardens and some of the great tourist attractions of Great Britain.

The tour began with an early arrival at Gatwick airport on the morning of June 26, 2010
Since we had guests joining us from other states and from Germany, we select a hotel near the airport for our first and last night to give everyone an opportunity to get together.
We departed our first hotel the morning of June 27 in a private coach, piloted by Nigel Readman, who has been our coach driver and tour assistant for the past 12 years.
We were to be transported to our hotel that would be our headquarters for a full week, doing day tours by private coach each day so that our guests did not have to pack up and change hotels nightly.
One of the stops we have hoped to include in past years was to a genuine British boot sale. Back here we call it a yard sale or flea market, but the Brits have been gathering and selling second hand goods from the "boot" (trunk) of their car. We finally managed to get to one.
After loading a number of goodies purchased onto the coach, we then routed our trip to allow for a stop in the village of Hartfield south of London, home to that famous bear Winnie-the-Pooh.
The shop is called Pooh Corner and is located in the original building where Christopher Robin used to visit to buy his favorite candy.
Needless to say, a number of Poohs made their way onto our coach, then we made a stop at the original Poohsticks Bridge in order to play the game of Poohsticks, made famous in the A.A. Milne stories.
From there it was a one hour journey to the Ashford International Hotel. We have been doing these tours for a good many years and have experienced a variety of accommodations, but we can say that this hotel was one of the finest we have stayed at.
The town of Ashford is a great central location in South East England, which t allows for short daily coach trips to a variety of venues each day.

Our venue for day four was the town of Lewes, a short distance from Brighton. This location had two major attractions; it has a reputation as being a town with many antique shops, and it is the location for Bears and Bygones, the magical teddy shop operated by Sue Pearson and her son Jason.
Sue is probably the foremost expert on teddy bears in Britain and operated her shop in Brighton for many years, having moved to Lewes just this past year or so.
She has authored a number of excellent books on antique bears and carries a marvelous stock of teddies, both old and new, manufactured and artist made in her shop.
I must admit that her inventory was depleted a bit by our enthusiastic tour guests.

Day five was an added bonus for many, as we loaded our coach and guests aboard a train at Dover and crossing was made through the chunnel (channel tunnel) to France, with a visit to the port city of Boulogne, a medieval town located right on the English Channel.
There we had the opportunity to visit both the old city and the new, ending up at the popular waterfront and our return back to England by coach and train.

Day six was a short coach ride back to the English Channel and a visit to the White Cliffs of Dover and the castle by the same name.
We have had the pleasure of visiting many castles over the years, but this is without question one of the most magnificent (and largest) castles in all of Britain.
It has a history that dates back to King Henry II in the 1180s, and added a chapter to its history during the turbulent War years with Secret Wartime Tunnels located deep beneath the cliffs.
As an added bonus, we also visited the quaint village of Faversham, and all fell in love with the wonderful shops, including a good number of Charity Shops which are always good hunting grounds for treasures!

Day 7 was the day we made the journey to the town of Rye, home to antique shops, art galleries, pottery stores, etc.
As we stepped off the coach, we were confronted with a large street market that offered a variety of goods. In fact, one guest was able to acquire a new suitcase to fill with all of the treasures she purchased at that point.
Not to be overlooked was a small but charming store with the name that said it all - Bears Galore.
It was right on a main corner on High Street, and just a few steps down to the lower floor and through their door exposed an array of teddies waiting for us.
One of the popular teddy bear brand names for collectors in Britain are Charlie Bears and the shop keeper had just received a fresh shipment.
Of course, we always manage to find time each day to enjoy tea and scones with clotted cream and a great tea room just happened to be on the route back to our coach!
Day 8 gave us the opportunity to spend the day shopping in the town that has been a favorite with visitors and native Britain's alike, at Royal Tunbridge Wells.
After exploring a shopping centre and a long walkway with interesting shops and boutiques on both sides, we were able to partake of the healing waters the town is famous for, long enjoyed by most of the Royal aristocracy.
From this point it was a short walk down to some antique shops. If you are getting the idea that some of our guests would require half a dozen suitcases to carry home their purchases, keep in mind that nearly every shop was willing to ship your purchases back home for you.
It was an opportunity to minimize space in your luggage and several of our guests did just that.
Day 9 was spent at the lovely seaside resort Eastbourne, right on the English Channel.
It has a magnificent pier that houses several amusement facilities and shops, and located right on the waterfront is the renowned Carpet Gardens.
From there it was a brisk walk to the main shopping area in the city centre, a closed pedestrian walk way. Much to the delight of our guests, there were no less than seven Charity shops within a five block area.

Day 10 was not one that our guests looked forward to, as we had to depart Ashford and return for our final night at the Best Western Gatwick, but the day was highlighted by a stop at Hever Castle and Gardens.
This moated structure has 700 years of history and was the childhood home of Anne Boleyn. It has an American connection in that it was purchased in 1903 by William Waldorf Astor and remained in his family's hands until 1981. The current owners have opened it to the public and was an excellent ending to our tour.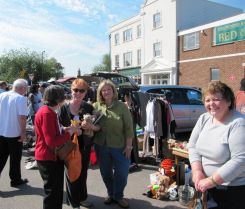 "Some of our guests compare
discoveries at a British boot sale."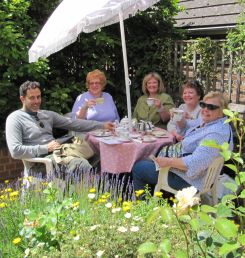 "Piglet's Tea Room and garden offers a
break from shopping at Pooh Corner."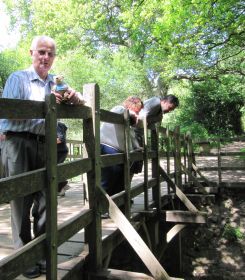 "We got to play Poohsticks on the
original bridge!"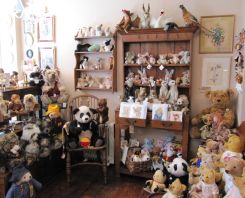 "Sue Pearson welcomes our crew to
her teddy bear shop Bears and Bygones."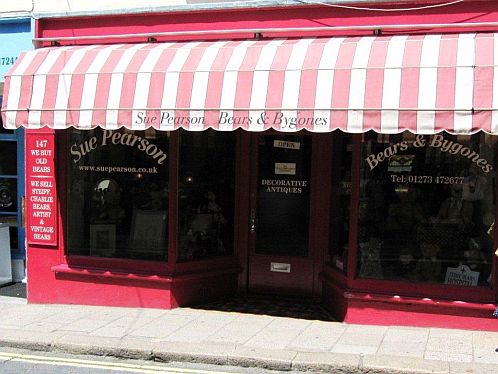 "Sue Pearson's shop is a welcome site
on the High Street in Lewes."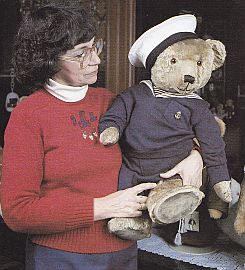 "Doris stands in a delightful garden with huge sculptures in Bolougne, France."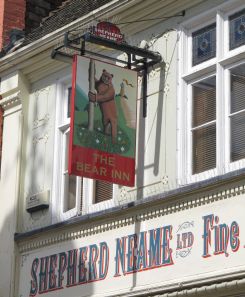 "Pub signs are always interesting but
unfortunately this sign was not for sale!"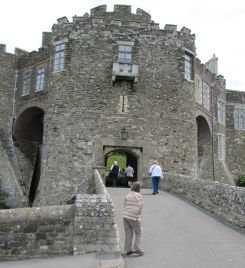 "Dover Castle is one of the finest in
Britain."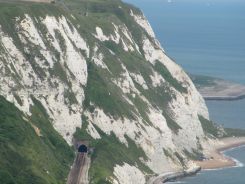 "A small portion of the spectacular
White Cliffs of Dover."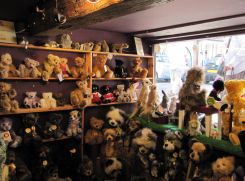 " Teddy shop in the town of Rye is
home to Bears Galore, packed with
teddies!"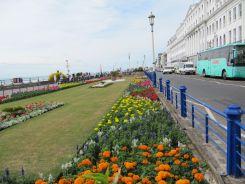 "The beautiful Carpet Gardens await
you on the seafront at Eastbourne."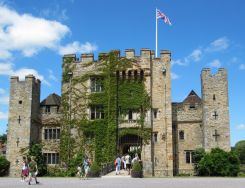 "Hever Castle was home to Ann
Bolyne and once owned by the
American Astor family."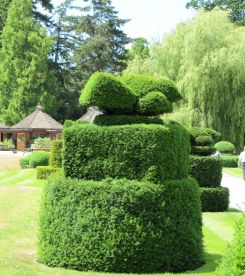 "Our visit to Hever Castle was a
reminder that perhaps my topiary at
home needs a bit of work!"
Terry & Doris Michaud
Members since March 2009