After conducting Carrousel Teddy Bear Tours to Great Britain for the past 27 years, Doris and I are pleased to say that this last tour (June 9 to 19) was the best ever!
It's true that the official name for our tours is British Collectors' Tour, but let's face it - nearly everyone on the tour (21 strong this year) are avid teddy bear collectors and were eager to discover the teddies waiting to return home with them.
Since our guests arrived in London from many locations, we always choose a hotel near the airport as our first night meeting place. In addition to guests from a number of states, we also welcomed four from Germany (regulars on our tours) plus two new guests from the Netherlands.
The tour was off to a good start when we discovered a package waiting for us at our hotel that contained a complimentary Hugglets UK 2011 Teddy Bear Guide for each guest. This wonderful guide contains everything you want to know about the teddy bear world there, including information on the two major shows in London held in September and February.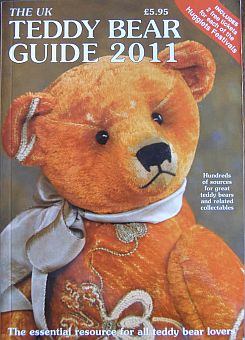 Our private coach collected the group the morning of June 11 and we headed off to visit Asquith's delightful teddy bear shop in Henley-on-Thames.
We were warmly greeted by Joan Bland and Ian and quickly set about the business of checking their great selection of teddy bears. They stock all of the top names as well as artists bears and their very own designs crafted in the UK exclusively for them.
We allowed enough time in Henley for the group to check out some nearby charity shops, where one of our guests discovered a small Hermann bear, complete with tags for the exciting sum of 50 pence! That amounts to roughly 80 cents, and we learned that the bear would normally be priced in the 50 Pound range (or $80.00).
Another guest purchased a marvelous vintage doll house at one of the charity shops. Needless to say, charity shops were high on everyone's list throughout the entire tour.
Next we traveled to our headquarters destination, the Ashford International Hotel in Southeast England. We stayed at this hotel for nearly the entire tour, making day trips by private coach to various venues within an hour or two of the hotel. Our guests are always pleased that we do not have to change hotels each night, allowing more time for teddies and tourism.
Each evening we gather for our group dinner, followed by a meeting to share the day's discoveries at "show and tell", and laughs all around.
We always get great advice from our coach driver of 13 years, and he shared information on a "boot sale" that was taking place within a few miles of the hotel that Sunday morning. Back home we call it a flea market, but it always has a mix of vendors selling new goods and home owners clearing out some of their treasures. To be sure, a good number of items were purchased to be shared that evening at Show and Tell.
After spending several hours at the Boot sale, we headed to nearby Dover on the coast, where our guests had a choice of two castles and gardens to visit; Dover Castle and Walmer castle. The group who opted for Dover Castle were dropped off, then we headed for nearby Walmer castle and Gardens, where we spent 3 hours before heading back to Dover castle to collect the guests there.
Monday, June 13 was our day to spend at Lewes, several hours drive from the hotel. After arrival at the coach parking lot, we made the short walk to the shopping district, stopping first at a nearby two story Antique Market. The sign said Flea Market, but it was not the typical selection of new tools and clothing, but more collectibles and antiques.
From there we headed for High Street (the main shopping thoroughfare) to Sue Pearson's wonderful Bears and Bygones Shop. This is a shop operated by teddy bear expert Sue Pearson and her son Jasper. Sue's expertise is in antique teddy bears, and in addition to offering a good selection of both old and new teddies, they also offer repair and restoration services. She has also authored a number of excellent books on our favorite topic. You can be sure that her stock of bears was somewhat diminished after our crew hit the doors there.
Tuesday provided a short drive for our coach to the nearby town of Tenterden. We had passed through on previous trips and were impressed enough to schedule a visit this year, and it proved to be a good decision. In addition to several antique shops, we also managed to find a few treasures at the local charity shops.
Another tip from our coach driver took us to nearby Pashley Manor Gardens. The British are known for their beautiful gardens, and we would rate this place as one of the best we have had the pleasure of visiting in our 27 years. In addition to the well manicured lawns and gardens, they had some magnificent statuary by British artists, a well stocked gift shop, and a tea room with our favored British sweets.
Wednesday, June 15 our coach took us to the city of Canterbury, and we started the day with a stop at the Canterbury Bears factory. We have known the owners, Maude and John Blackburn for 20 years or more, and they continue to provide some great teddy bears to collectors throughout the world. The operation is managed by their lovely daughter Kerstin, and in addition to providing their designs to retail specialty and gift shops, they are also noted for Special Editions for a host of noted companies such as Harrods Department Stores and many others.
You can always expect the unexpected from Canterbury Bears, such as a new design based on the buyer's jeans! You provide the fabric from your jeans and they will turn it into your very own teddy bear. Maude, John, Kerstin and their staff were pleased to give our group a tour and show us the various steps in design and production for Canterbury Bears.
From the factory it was just a short jaunt to the city of Canterbury, where many of our guests took advantage of the opportunity to visit the magnificent Canterbury Cathedral. It is located right in the heart of the city, and from there it was a pleasant stroll through the streets of the city, discovering more shopping opportunities, charity shops, and a street market with all types of goods for sale.
Thursday was our trip to the city of Rochester, with both a castle and a cathedral within a short walk of each other. We spent a good part of the day in Rochester, with quaint shops and still more charity shops to check out. To our pleasant surprise, we also discovered a teddy bear shop that we were not aware of, called Grin & Bear It, right on the High street.
A visit to Southeast England would not be complete without a stop at a seaside town, and we accomplished this with a day at Eastbourne. Our private coach dropped us off right at the entrance to the historic Eastbourne Pier and their award winning Carpet Gardens located right along the ocean front.
A short hike of about 3 or 4 blocks took us to the main shopping district, where the streets are closed to through traffic, providing a most pleasant pedestrian walkway. It seems like there was at least one charity shop in every block, so the race was on to be the first in the door.
We returned to our headquarters hotel for our final night at this hotel and our group meeting after dinner.
Our German friends Peter and Joanne Krusche are regulars on our tours, and Peter put together a slide and video show taken on previous trips that brought back some wonderful memories.
On behalf of the entire group, Heather Cook presented us with a Ltd. Edition teddy bear print by acclaimed artist Jody Bergsma.
Each guest had taken the time to write a brief note in the matting, and to borrow a British phrase, Doris and I were "gobsmacked" by this wonderful gift.
We have commented frequently about our British driver and tour planner Nigel Readman, so it was our turn to surprise him. We brought along the prototype of our beloved Professor bear, complete with Carrousel Tour cap. It was given to Nigel with the understanding that we reserve the right to return for an occasional visit.
Saturday morning our good friends from Germany headed back to their country and the rest of us made the coach trip back to our hotel by Heathrow airport to prepare for our return home on Sunday, June 19.
A stop en route to the charming village of Faversham provided one more chance for our guests to enjoy one last shopping spree.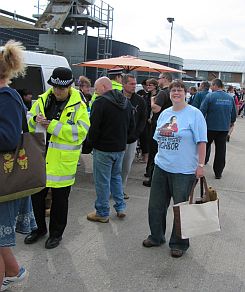 Good Bears supporter Meg Barnhizer at the Boot Sale.
Sandra and Nelleke, our new friends from Holland.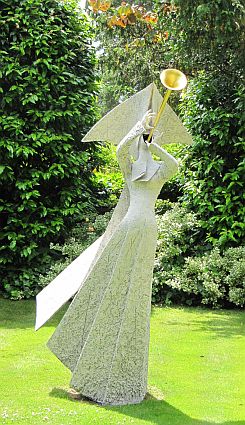 Pashley Manor Gardens had some spectacular statuary by area artists.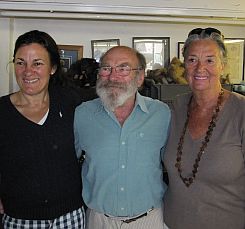 Kerstin, John & Maude Blackburn at Canterbury Bears.

Guest Barbara Kennell selected one of the new American bear designs from Canterbury Bears.

Jim & Dee Moyes loved Pashley Manor Gardens.

What a great discovery waiting in an antique shop!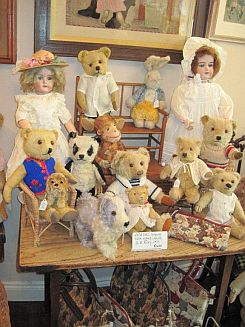 Interior shot at Sue Pearson's Bears & Bygones shop in Lewes.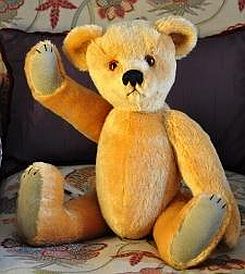 Asquiths Big Boy bear.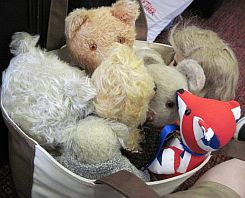 This guest was all smiles when she boarded our coach after a day of shopping!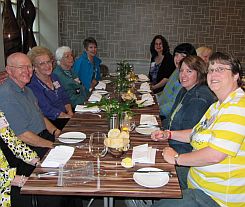 Shopping - Eating - Shopping - Eating!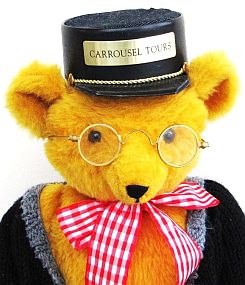 Prototype of the Professor that was produced by the Michauds in a Limited Edition several years ago. It is a replica of the very first antique teddy bear in their collection.