Mention the name Winnie The Pooh and we tend to visualize the bear that has been shared in movies around the world by The Walt Disney Company.
But there is much more to our good friend as you will discover when you read the delightful new book by British author Shirley Harrison (published by Pelican Publishing Company).
The author is well suited to share previously unpublished information and photographs about the history of the original bear, the author A.A. Milne, Christopher Robin, his mother, the family Nanny and the profound effect (both good and bad) the people and Pooh and friends had on each other.

The author, a freelance journalist, operated a preschool playgroup in Hartfield, the town where Christopher Robin and his collection of animal friends spent time at Cotchford Farm, the family summer home. Harrison interviewed Christopher's mother Daphne Milne and shares well researched details, along with facts behind some of the myths surrounding the bear - the boy - and the family.

One would assume that enormous success of the Pooh books would have brought great joy to the author A.A. Milne and to Christopher Robin, but in fact the author considered himself a renowned playwright first and foremost and never really took pride in his work as a children's book author.
Christopher Robin suffered many taunts in school because of his fame and distanced himself as best he could from the bear and the books as he grew up.

A.A. Milne was known to family and friends by his nickname, "Blue", his wife Daphne was called "Daff" for short, and Christopher was always called "Moon", a nickname that came about because he had difficulty pronouncing the family name Milne as a child.
The bear, originally known as Edward, was a birthday gift for Moon's first birthday in 1921. It was a teddy produced by the British firm of J.K. Farnell and purchased in the toy department of Harrod's Department Store.
Piglet also joined the family and was first known as Poglet. Eeyore was a Christmas present that same year, with Kanga and baby Roo added later.
Owl and Rabbit were simply fictional characters added to the stories by author Milne.
The family also had real animals at the farm, including a cat named Pinkle (but called Tattoo) and a kitten called Pinkle Purr. Jessica the donkey was used to transport Moon into the village, led by his Nanny Olive Brand, known simply as "Nou."

This new and exciting book has been published!
Order your copy today!
Bears&Buds Readers Receive a Special Price!
See below to place your order now!
---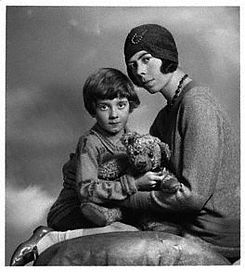 Christopher Robin with his mom and Pooh.
---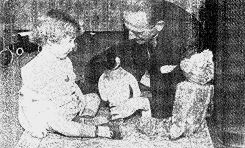 Our young friend and his bear share a
moment with Christopher's father.
---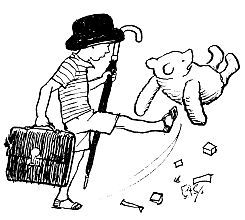 Christopher Robin is ready for school and bravely attempts to put Pooh out of his life.
---
Artist E.H. Shepard and Milne were never close friends, but both recognized the talents of the other and can both claim credit to the success of the books.
Shepard's granddaughter said that her grandfather felt the secret to Pooh's personality was the eye placement farther back than on any previous teddy bear, giving him a bemused, anxious-to-please look.
The early success of the books brought requests by commercial companies who wanted Pooh's endorsement, but were turned down. However, Milne was generous in Pooh's use by charitable groups.
In 1930 Christopher Milne entered boarding school, parting ways with the child who enjoyed being famous. He actually learned to hate that aspect of his life, due in part to the cruelty of his class mates. He later attended college, which was interrupted by his service in the military during World War II. He was wounded in 1944, then returned to Cambridge college, graduating in 1947.
In July of 1948 Christopher Milne married his first cousin, a long and happy relationship. They opened the Harbour book shop and minded the store for the next 30 years.
He managed to hold his connection with Winnie the Pooh at bay through the years, but a threat by British Petroleum to sink a test bore hole in the heart of Ashdown forest caused Christopher to spearhead a drive to buy the property, a successful drive.
Christopher Robin Milne passed away in 1996. The original Winnie the Pooh and the other characters have resided for many years in the care of the New York public library.
The book shares a lot of added information including details on how a literary agent purchased U.S. and Canadian rights, how and when Disney got involved, and the incredible success Pooh has been for Disney, which led to a decades long battle in court between the Milne heirs, the agent's heirs and Disney.

This book really belongs on the shelves of all teddy bear lovers, let alone those who are dedicated to the world famous Winnie the Pooh and friends.
UPDATE - October 1, 2011
We are pleased to announce that Pelican Publishing Company has now released this exciting new book and you can order today. As we indicated in last month's book review, it is filled with little known facts and information about our great friend Winnie-The-Pooh. We discovered a few more "nuggets" of information we wanted to share with you.
The actual price paid for the original Farnell bear that was destined to become Winnie-the-Pooh was 10 shillings, 6 pence. Converting that to today's value in U.S. dollars, it works out to just under $20.00. I am sure we could create a lineup at a store offering the bear for sale today at that price. Pooh has since taken the marketplace by storm. In 2000, a gallery in Winnipeg Canada purchased the only known copy of an original oil painting of Pooh at auction for $243,000.00. Fortune magazine stated that Winnie-the-Pooh merchandise products generate annual sales estimated at more than $3.75 billion dollars (yes, that's billion, with a "B".)

It might also surprise you to learn that it was not Disney who crafted the drawing of Pooh with his traditional red shirt, but was in fact the literary agent Stephen Slesinger who created that drawing in 1932 for an RCA Victor picture record. He purchased the U.S. and Canadian trade rights from A.A. Milne in 1930 for an advance of $1,000.00 plus 66% of the income generated. Within one year it had become a multi-million dollar business for Slesinger. In 1961 his widow sold the merchandising rights to Disney, and that same year A.A. Milne's widow Daphne sold certain rights to Disney, including motion picture rights. As Winnie-the-Pooh's fame and fortune grew under the Disney banner, it led to a complicated lawsuit filed in 1991 by the Slesinger estate. Because of the huge sums of money involved, it dragged on through the courts for 18 years, with a settlement agreed to in 2009.

When is Winnie-the-Pooh's "official" birthday? That depends on who you ask. Disney has tied his birthday in with the release of the first printing of the book "Winnie the Pooh", but some British historians list his birthday as August 21, 1921 - the date that Christopher Robin celebrated his first birthday and received the bear as a birthday gift.

Author Shirley Harrison has used a number of original documents, photographs and the diaries of the late Elliot Graham, who was caretaker of the bear for more than 40 years. This has enabled her to give a glimpse into the hidden world of Winnie-the-Pooh and those whose lives he changed forever.
This informative and delightful new book is one that we can heartily recommend for all teddy bear lovers, as well as those dedicated to the most famous bear in the world. Order your copy today - see link above.